The Sister is a character in Limbo. The Nameless Boy meets her at the end of the game. It might be known that the Boy and Sister had built a treehouse together which is significant to the story. It may also be assumed that she is dead, as well as the Nameless Boy, due to the main menu.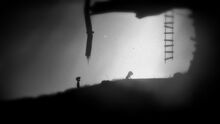 Ad blocker interference detected!
Wikia is a free-to-use site that makes money from advertising. We have a modified experience for viewers using ad blockers

Wikia is not accessible if you've made further modifications. Remove the custom ad blocker rule(s) and the page will load as expected.